X-Ray Vision, a Builder + Homeowner's Friend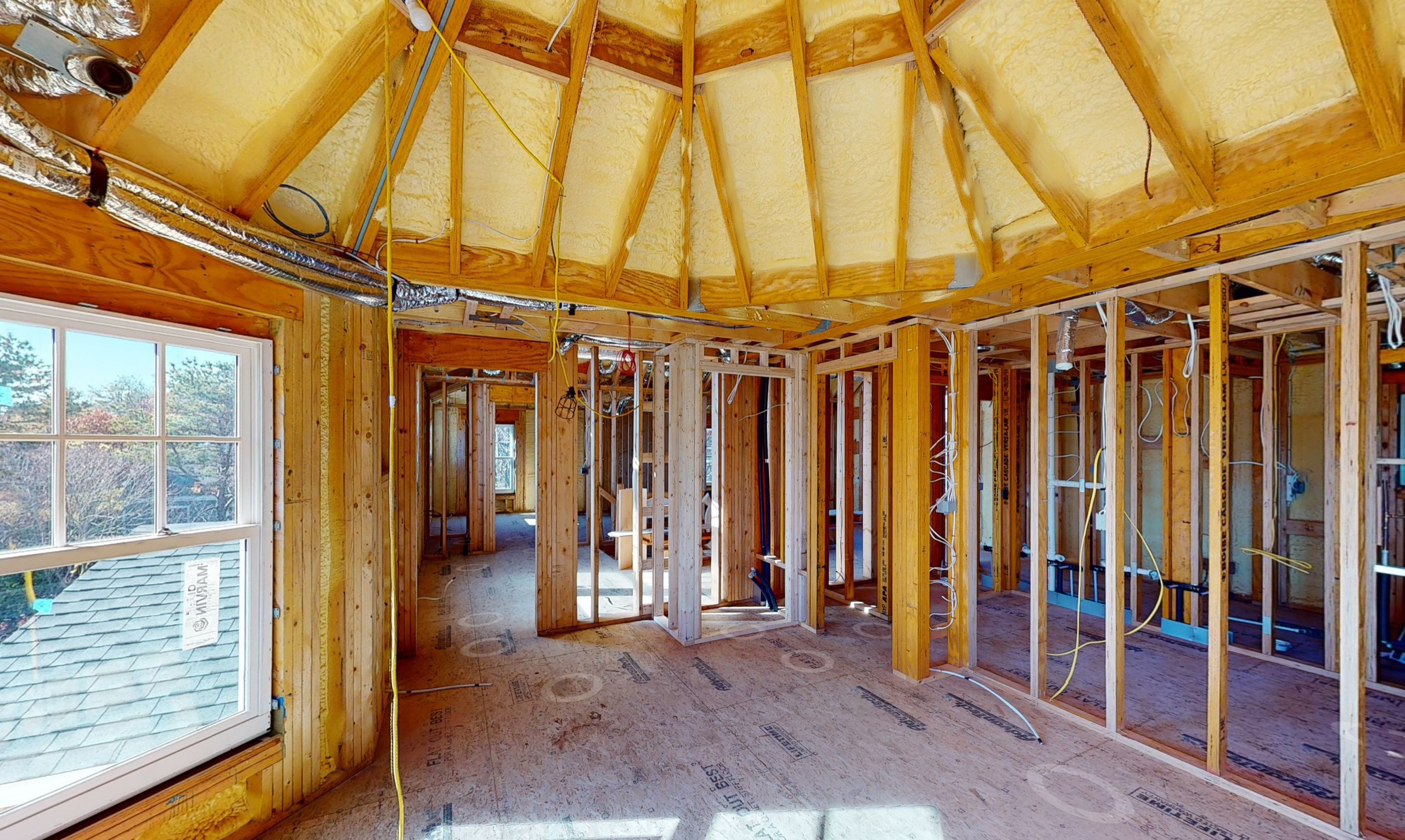 Builders: Looking to address a client's change requests with ease? Or reduce errors (save $) through improved communication with your team/project partners? Then read on to learn about a tool that many builders are embracing for their new builds and renovations.
X-Ray Vision, a Builder & Homeowner's Friend
How to know exactly what's behind the walls when you need it most. 🕵️
You're progressing on your build. Mechanical (MEP) – Check. Insulation-Check. Drywall-Check. Now the walls are up and the space is coming together. Then you get THE call. The call from the homeowner sounds something like this, "We've been rethinking our closet. We think it's too small. We'd like you to expand it." You can feel your blood pressure rise, "No problem" you say, but inside you're thinking, this actually IS a problem now that the walls are sealed up.
If only you had X-Ray vision to see the location of all the MEP and the exact location of all the studs. Enter the "Open Walls™ " 3D Virtual Tour. Before we talk about this amazing tool, let's first talk about what a general 3D Virtual Tour is and isn't.
What is a 3D Virtual Tour?
You've likely seen a 3D Virtual Tour. They are used often when posting a house for sale on the MLS. Using 3D camera technology, a 3D Virtual Tour transforms real-life spaces into completely immersive tours. The Tour feels like you're actually walking through a home/building. You can wander around at your leisure. You can return and revisit a room with the click of your keyboard. It's literally the next best thing to physically walk through a space.
What a 3D Virtual Tour Isn't.
It's not a video. Unlike a video, which is linear, meaning you have to go in the direction the video takes you, and you have to stop and start the video if you want to examine something specific. The Tour enables you to go wherever you'd like in the space by just using your keyboard or mouse. It's also not a video game, but it can also be viewed in VR goggles if that is your jam.
"Open Walls™ " Virtual Tour vs 3D Virtual Tour
The only difference between the two is timing. The timing of when the tour is made. An "Open Walls " Tour is created right after the MEP is finished but just before insulation and drywall go up.
We won't slow your build 🐢
We understand that time is money and moving the build along is essential. This is why we scan the job for The Tour typically on weekends, while no one is at the job site.
BENEFITS
You may be wondering, what are the benefits of having all of the MEP documented?
While your immediate answer may be: "To address any mechanical failures in the future." Let's think bigger. The builders we've worked with have discovered many other benefits to having the "Open Wall " Virtual Tour (the Tour). Here's what our client C.M. Ragusa Builders in Seabrook, New Hampshire, said about their ongoing use of the "Open Wall " Virtual Tour…
"We strive to be on the cutting edge of technology and are excited to utilize the Open Walls Tour to help both our clients and project partners. The Open Walls Tour we hired Greg West Photography to deliver has improved the flow of communication both internally and externally and as a result, reduced errors. The biggest advantage is the capture of all the MEP before the walls are sealed up. We know exactly where everything is, including the location of each stud. It's been a game changer when clients have changed their minds about something, say the size of a shower. We save time and money by knowing the access point to make changes and the various tools within the Tour have really helped." -Chris Ragusa, C.M. Ragusa Builders
Let's expand a bit more on some of Chris' comments:
Improved Communication. Using Zoom to share The Tour with project partners or the building/homeowner. At this stage of the build reviewing progress with all involved, can prevent errors and ultimately decrease costs.
Save Money & Time. In the event of mechanical failure, or homeowner's change order, you will know exactly where everything is behind the walls, saving you both time and money. ⏳
Home/Building Owner. Imagine the value your client will see from having this documentation for the life of their home. Not only will they have "X-Ray" vision for any issues that come up, they will also realize the benefit when they sell. Remember when you bought a building/home? Think how wonderful it would have been to see behind the walls before you signed the deal. The Tour definitely sets you apart from your (builder) competitors.
No more photos. Many builders we've spoken with take A LOT of pictures of the MEP before the walls are sealed up. Then they have to remember where they stored those photos and figure out how best to organize them for easy access. If you need a photo of something specific The Tour offers the option to take screen grabs from within The Tour. 📷
Keep your project moving. Reduce wait time for quotes from some subcontractors. Send along the "Tour" saving them travel time and fuel costs and getting your project done faster.
Insurance. You've all been instructed by your insurance agent to visually document your homes/builds. Now both you and the building/homeowner will have documentation for insurance purposes. Further, the current insurance market is "hardening" meaning it's more difficult to get insurance. I spoke with a seasoned insurance broker who was very excited about The Tour. She thought it could speed the process through underwriting and perhaps even help you secure a lower premium!
Investment. Our clients are often surprised at how affordable The Tour is. Don't let a concern about cost get in your way. The pricing model is based on square footage. Schedule a demo to learn more.
COMMERCIAL BUILDING
Open Walls™ Tours can also be applied to commercial buildings. Imagine what a huge help this will be for your client or their facilities manager should some electrical fail. Or a pipe burst. The owner/manager will know the best and safest access point to make the repair. I'll say it again - this tool is both a time and money-saver.
TOUR ACCESS
So where does the Open Walls Tour "live" once it's completed? The Tour is hosted in the cloud and is accessed via a custom URL link, and you can even embed a tour on your website. The link can be shared with anyone. Once your build is complete we can transfer the tour to a FREE hosting account for the building/homeowner's long-term documentation.
TRAINING 👨‍🏫
As part of client support, we deliver training to your team so everyone needing to access The Tour can realize the full benefit of this powerful tool.
X-Ray vision would be nice but an Open Walls 3D Virtual Tour is the next best thing saving you time and money and ultimately making your client even happier.
How do you currently handle documenting MEP? Comment below. ⤵️
Ready to learn more? Schedule a demo today: https://info.gregwestphotography.com/open-wall-demo-request
Sign up for our Monthly Blog Below 👇️
Subscribe to our monthly Blog for more topics to help your business and marketing.